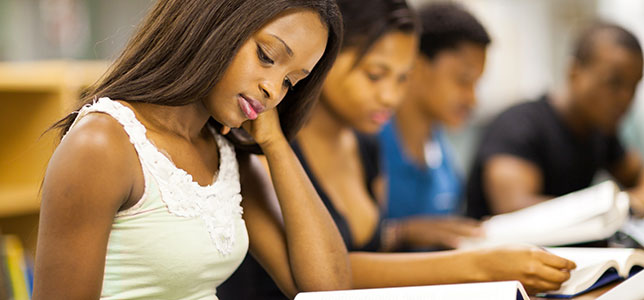 By the time one arrives at college supposedly identity issues are settled. Typically, identity explorations occur on adolescent platforms. Adolescence is the season when one negotiates one's way into an identity with which one is comfortable.  Identity can be tied to feelings of belonging to a given group's social space. It follows therefore that if one belongs to a dominant group one becomes secure in the imputed group identity. However, an event may occur when someone outside of the group challenges, or questions that accepted identity valuation with a view to devaluing it. In the face of this kind of identity threat whether one is an adolescent or an adult the task then is to renegotiate oneself into identity security. Options are that one can choose to concede to the devaluation or negotiate one's way out of the mis-identification. A viable option is to redefine or re-assert one's sense of identity by comparing oneself to the threat in such a manner that the misaligned evaluation is transformed into a positive.
This excursion into identity provides context for the greater appreciation of the poem that follows entitled "What", found in my book Splendor from Ashes. The poem illustrates how in-group challenges aimed at negatively compromising default accepted social valuing can be confusing. It is confusing as it amounts to gatekeeper betrayal.
What? (2004)
Why do you tell me I'm black?
I know I'm black,
and I wear this color, like the air I breathe.;
without affectations, or pretensions
I never really thought of it before,
but why do you say it to me
all the time,
constantly,
every time you compliment me?
Is there something you wish to tell
of which I'm unschooled
of which I'm oblivious, or clueless?
You're a smooth, black beauty.
You're an attractive black woman.
Is this unusual in one of darker hue?
Are you questioning my rights
to beauty, sisterhood, acclaim?
This shade of black is rare, you say—
rare to whom?
And this from one who mouths black pride?
Now as God, I see in your eyes.
I see the truth you wish to hide.
I see the hollowness inside.
I see the camouflage of fear—
your fear of being black.
Splendor from Ashes  by Ingrid Rizzolo